Have you seen some of the headlines about the Democrat Executive Council in the last few weeks?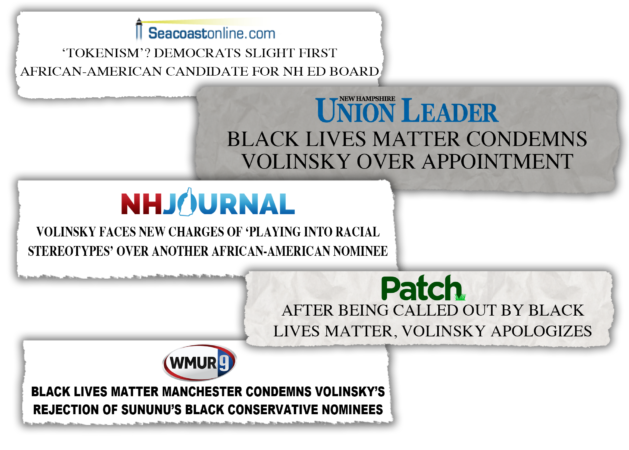 While Andru Volinsky runs for Governor, he's been leading the Obstructionist Democrats on the Council for years. Volinsky's "structural political racism" is being enabled by just two individuals: Mike Cryans and Deb Pignatelli.
Neither called out Volinsky when he said Ryan Terrell was a "demeaning" nomination akin to "tokenism." Neither voted for Ryan Terrell, siding with Volinsky that he was "unqualified." Neither broke ranks with Volinsky on the Council to schedule a hearing for Eddie Edwards.
And, as of this email, neither have apologize to Ryan Terrell or Eddie Edwards for the "structural political racism" exhibited by the Democrat Executive Council.
Both Cryans and Pignatelli are running for re-election – will you donate to our "FLIP THE COUNCIL" campaign to help defeat them?
We have to hold these Democrats accountable for their enabling of Volinsky, and we need to Flip the Council this November. Invest in the NHGOP so we can do just that.
Because Debra Pignatelli and Mike Cryans have not apologized for enabling his behavior, we are launching a new petition to hold them accountable and demand they apologize: https://action.nh.gop/democrats-structural-political-racism
I would like to see every county, city, and town committee share the petition to their networks and pages in order to get as much traction as possible and to keep the story in the news – we can't let Democrats run out the clock as they are hoping people move on from this latest episode.
I am also attaching graphics (in a .zip file) the NHGOP will be putting up over the next few days – if your county is in either councilor's district, feel free to use the graphic on your page while promoting our petition. This will help identify voters in these districts that we need to get out to vote to Flip the Council.
Even if one of these councilors is not from your county, we are still promoting this petition statewide in order to flip the entire Executive Council and have 5 Republicans on it next year! Please share the petition on your pages today.
Thank you for your help in pushing this petition and messaging!