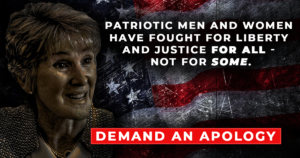 As we enter Memorial Day weekend I wanted to share with you our latest NHGOP Digital Petition.
As you may have seen, Democrat Executive Councilor Deb Pignatelli disgraced and altered our Nation's Pledge of Allegiance during a recent Executive Council meeting.
A video we put out with her audio can be found here.
Since this story broke yesterday she refused to apologize in multiple media interviews and doubled down on her comments. In light of these remarks we have launched a new online petition demanding she apologizes to every Granite Stater, especially the over 100,000 New Hampshire Veterans and all those currently serving who fought for Liberty and Justice for All, not just for "some" as Pignatelli views it.
We also have a post on the NHGOP Facebook page that I would love to see shared as well.
Thank you for your help in holding Councilor Pignatelli responsible for her actions,
Joe
—
Joe Sweeney
NHGOP Communications Director
O: 603-225-9341
C: 603-327-7184
F: 603-225-7498
HQ: 10 Water Street, Concord, NH 03301